Netflix revealed quite a lot of new footage from The Witcher's second season at their TUDUM fan event, and as always, we're here to analyze every single frame of it. For a full recap of the news from TUDUM, take a look at our previous article.
---
Two clips from the first episode of Season 2 reveal Nivellen and tease a fight with a bruxa
In the first clip from the second season, Netflix provided our first look at Kristofer Hivju as Nivellen. Hivju is famous for playing Tormund in Game of Thrones, and this new clip proves he brings the same gravitas to this new role. What's more, it appears the show's prosthetics and CGI have improved, if one were to compare Nivellen's look to that of the sylvan Torque from season one.
If you're wondering who the hell this boar-man is, this is a new character originally introduced in the short story A Grain of Truth. As in the books, Nivellen will host Geralt in his magical mansion, where they will exchange some life stories and (eventually) confront a violent bruxa.
Unlike in the books, it appears that Geralt and Nivellen already know each other, as Geralt calls him his "old friend". In the clip, they're seen throwing knives at a painting, presumably of Nivellen's father and discussing the nature of witchers, and whether Geralt is hiding his violent side from Ciri. Connoisseurs of the books will notice that this is probably inspired by a scene from Time of Contempt, that involves the detective Codringher (portrayed in Season Two by Simon Callow) testing his throwing skills on a portrait of his father and later on Geralt. Needless to say that the witcher remains calm and unflinched throughout the exercise.
Also unlike in the books, Geralt will bring Ciri along for the ride in the show's adaptation. This is bound to present some challenges for the witcher, as we can see in the second clip. By the time the bruxa arrives, Geralt will have to worry about keeping Ciri safe. In case you're wondering what exactly is a bruxa, that would be a vampire who can assume the form of a woman, and that of a giant bat. We're excited to see this fight play out on screen.
Obviously, there's no point in dissecting every frame in these scenes. So, on to the new trailer!
---
A new trailer focuses on the Road to Season 2, with footage from both seasons
At first glance, the new trailer seems to be composed mostly of footage from season one. Though this is true, there are actually a number of new shots in the trailer, and they're quite telling.
---
Introducing Vesemir, the Chad-turned-Dad, as portrayed by Kim Bodnia
So far, Netflix has only shown us Kim Bodnia's Vesemir from the back, or in blurry shots where his costume could not be appreciated. Now, we finally have a good look at Season 2's Vesemir. Even better, the show's official Twitter account provided us with two high-quality pictures of Vesemir.
In one of them, the old witcher can be seen with blood smeared on his forehead while holding another witcher's medallion. If you've been following our leaks and spoilers, you can probably guess who that medallion belongs to.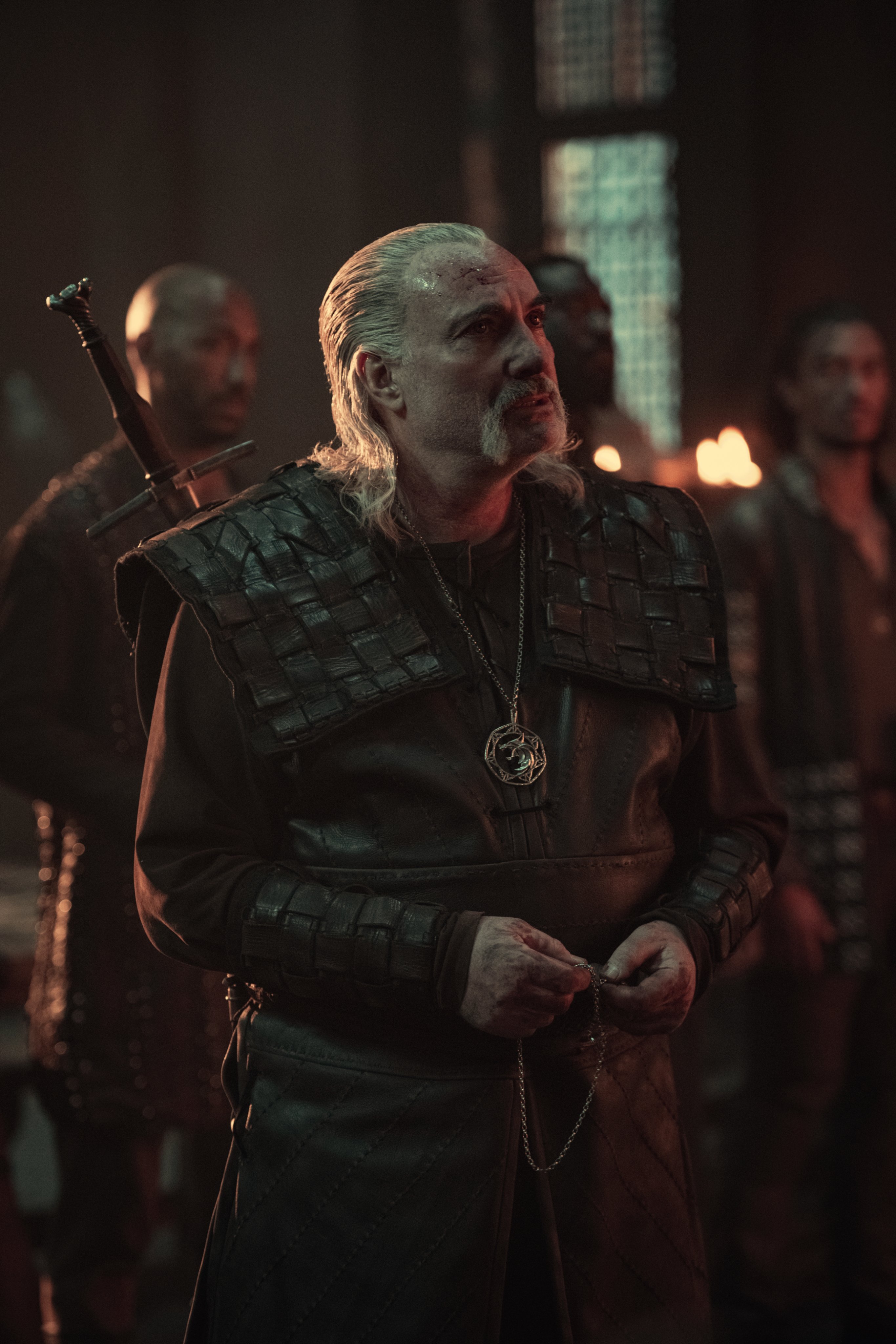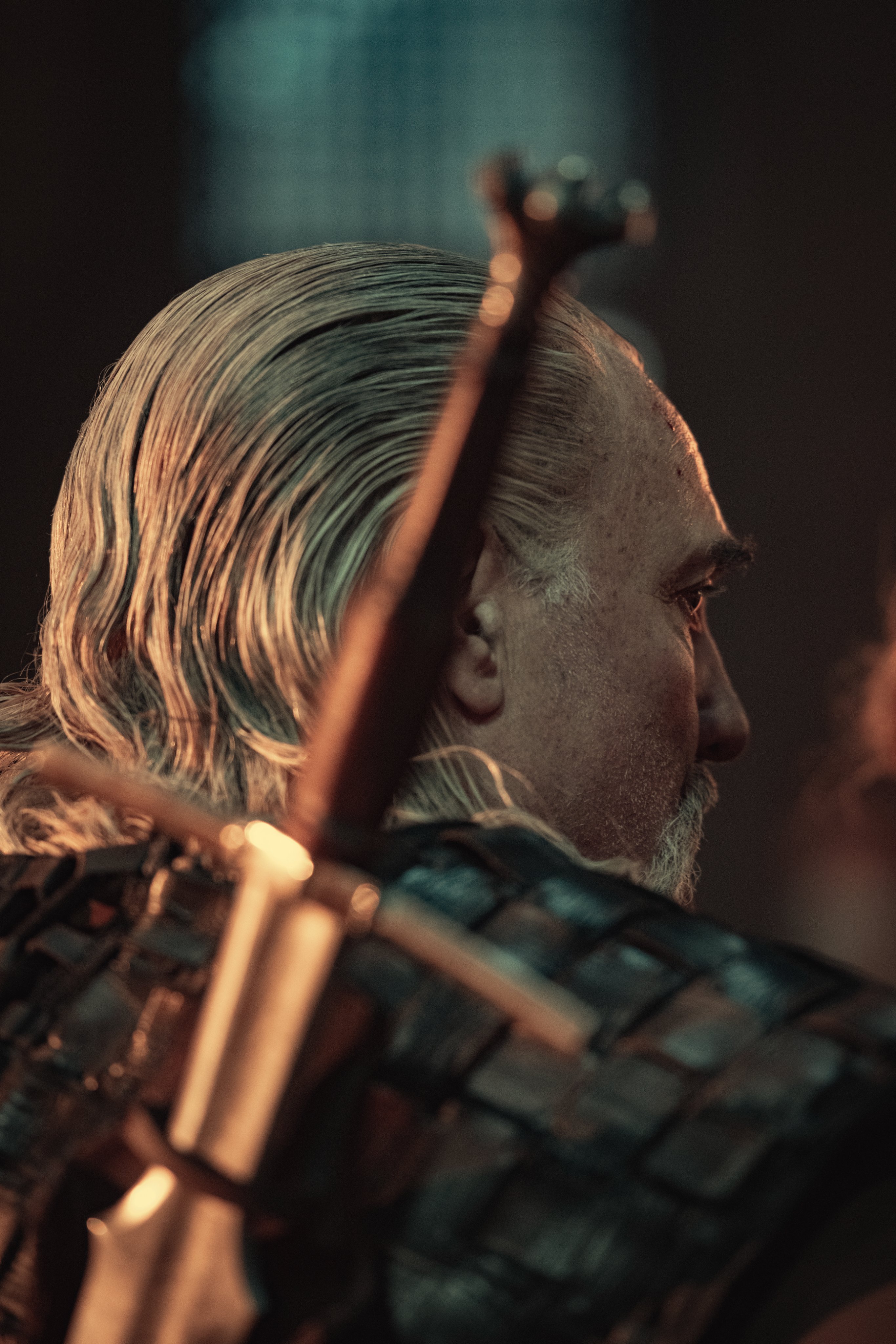 ---
After the Battle of Sodden, Yennefer gets captured by Fringilla
Season one ended with the question "Who's Yennefer?" but most fans were asking "Where's Yennefer?" Well, we've known for a while now that the culprit behind Yennefer's disappearance after the Battle of Sodden Hill is the Nilfgaardian sorceress Fringilla Vigo.
It seems that she was able to slip past the Northern armies and carry a wounded, unconscious Yennefer with her to the retreating Nilfgaardian forces. Yennefer's arc in Season Two will begin with her being captured by Fringilla, but things will change rather quickly.
---
And then, they're both captured by the elves
As can be seen in the trailer, the retreating Nilfgaardian force is attacked. It seems that the elves will ambush them, and Fringilla will free Yennefer from her shackles and even provide her with a bow to defend herself. That won't do much good of course, as the elves will eventually overpower them.
Fringilla and Yennefer are next seen chained inside an elven carriage. Various leaks from season two tell us that they're on the way to an elven encampment where they will meet an elf familiar from season one, Filavandrel (Tom Canton), as well as a brand new elven character, Francesca (Mecia Simson). These two elves will have major roles in the upcoming season and, presumably, during the rest of the series.
---
A captured Cahir is being interrogated (or tortured?) by Tissaia
Another character who's captured by his enemies following the Battle of Sodden is the Nilfgaardian knight Cahir (Eamon Farren). In this quick shot from the trailer, we get a glimpse of Cahir being interrogated by Tissaia. After the bloodbath at Sodden Hill, Tissaia has lost many of her students, and she believes she has lost her favorite as well. With Cahir leading the Nilfgaardian attack alongside Fringilla, it's likely she believes him to be directly responsible.
This is an interesting new storyline that has also been the subject of a major Season Two leak. If you're curious to learn more about Cahir's plotline in season two, make sure to read our spoiler report from the set.
---
Jaskier appears to be in a heap of trouble. Is Rience involved?
Besides the above frame from a scene that appeared in the first season two teaser, where Joey Batey's Jaskier is seen performing on stage, the new trailer provided two additional shots of Jaskier from season two. These are quite interesting, as it seems that Jaskier is in trouble.
In both pictures, Jaskier is wearing the same shirt he wears at the concert (underneath the red leather jacket), but his hair is messy and his face bloody. If we were to guess what befell the bard, we'd say it's likely he gets captured by a certain Rience after the concert.
The novel Blood of Elves begins with Jaskier performing a ballad to an audience, after which one particular audience member begins pestering him with questions about Geralt and Ciri. When the bard does not comply, the mage Rience captures him and tries to extract the information using torture. It looks likely the show won't hold back here.
---
Geralt and Ciri on the road to Kaer Morhen
Most of the marketing for Season Two has focused on Geralt and Ciri, so it's no surprise that they've reused some of the scenes we've already seen. In one shot, Geralt is holding Ciri's iconic Season One coat, with the sigil of Cintra. It's likely Geralt and Ciri will discuss all she has lost.
We see a few more shots from Geralt and Ciri's stay at Nivellen's mansion in the trailer. As in the books, the courtyard will be fitted with stone statues, but we haven't seen the statue of a dolpin yet in the trailers.
---
Ciri begins her witcher training at Kaer Morhen
One of the most exciting storylines of Season Two is Ciri's witcher training. Once they arrive at Kaer Morhen and meet the witchers, Ciri will begin training with Geralt, Coen, Lambert and Vesemir. In these next few pictures, we can see Ciri practicing with the sword against a dummy while Geralt watches. To their right are the bones of a dead griffin, a monster slain during the final battle of the anime film The Witcher: Nightmare of the Wolf.
---
With TUDUM out of the way, we expect our next major event to be the release of the first proper trailer for Season Two, presumably sometime in the next two months.
Season Two will release on Netflix on December 17.